Below is a List of Characters of the "Dragons Rioting" manga series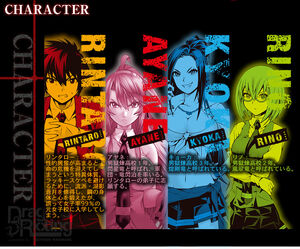 Students
1st Year
2nd Year
3rd Year
Kyōka - One of the strongest student of the academy, Kyoka is one of the Dragon whose fighting skills are superior towards both Ayane and Rino. In her philosophy, Kyoka believed that the strong ensures survival and tends to fight and antagonize Ayane's own philosophy (as her philosophy that people's bond would make her stronger) to become the strongest in the academy.
Kako - Kyoka's partner and subordinate, who is extremely defensive towards Kyōka against all threats.
Teachers & Staffs
Okina - Kintaro's and Ayane's hot-blooded homeroom teacher who is serious and protective towards to her students in her class, though she urged her students to fall in love before their graduation.
Others