Dragons Rioting
Kanji

ドラゴンズ・ライデン

Rōmaji

Dragons Raiden

Genre

Shōnen, Action, Ecchi, Martial Arts, School Life, Harem

Manga

Created By

Tsuyoshi Watanabe

Published By
Original Run

November 9, 2012 - ongoing

Volumes
Dragons Rioting
(ドラゴンズ ライデン) is an ongoing Japanese manga written and illustrated by
Tsuyoshi Watanabe
 that has appeared in Fujimi Shobo's Monthly Dragon Age  magazine since July 2013.
It has been serialized in Monthly Dragons Age since November 9,2012 where it is still ongoing. The individual chapters are being collected and published in tankōbon volumes by Fujimi Shobo, with 2 volumes released as of November 2013.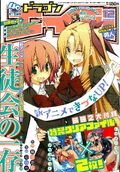 Dragons Rioting
first appeared in the December issue of Monthly Dragon Age that was released on November 9,2012.
The series follows the story of Rintaro, a high school student with Hentai Syndrome who accidentally enrolled at Nangokuren High School which was formerly an all-girls school that had only recently changed to co-ed. As such, the population of the school was comprised of 99.9% females. Rintaro mistakenly believed that it was an all-boys school because of its masculine name. 
Plot
As a 6 Year Old, Rintaro is diagnosed with Henisei Tashu Ijou Syndrome (also known as Hentai Syndrome), a disease that could kill him if he gets sexually aroused. To save him and provide a way for him to live as normal a life as possible, his father teaches him the ways to control his body and mind for ten years in the mountains, with the martial art of the Koei Sougetsu. When he's 16 he chooses to enroll Nangokuren High School, which he assumed to be the biggest all-boys school in the country but is actually the biggest all-girls school that has just gone coed.
On his first day he stumbles upon a large scale battle and learns that the first rule of the school is that it "Abides the Law of Nature" which has turned the campus into a war zone-like environment. Rintaro now sees transferring out as his mission, but it won't be that easy now that he's caught the eye of the Three "Dragons", the bodacious female leaders of the three biggest factions around.
Characters
Main Characters
Rintaro is the main protagonist of Dragons Rioting. He was diagnosed with Hentai Syndrome. The syndrome results in dangerous levels of stress placed on his heart when he becomes sexually aroused. In an attempt to allow Rintaro to live a normal life, his father taught him the way of Koei Sougetsu. 
Ayane is  the leader of Ryōzenpaku and is one of the three dragons of the Nangokuren High School, she is known as Senseiryū.  After witnessing what Rintaro can do, she asked him to be her master.
Kyōka, also known as Kōgōryū, is one of the three dragons of Nangokuren High School. She is a third year student and is considered the strongest of the three by a small margin.
Rino, also known as Ransuiryū, is one of the three dragons of Nangokuren High School. She is a second year student.
Community content is available under
CC-BY-SA
unless otherwise noted.